The China International India Exhibition will be held from October 12 to 16, 2020 as scheduled
---
The 8th China International Printing Exhibition is one of the most influential professional exhibitions in China's printing industry.
The whole printing exhibition is committed to provide the world printing industry with new opportunities for innovative development and new impetus for sustainable development.
China's printing industry is speeding up the pace to "green, digital, intelligent, integrated" development, China is steadily moving toward printing power.
Shouldering the mission of leading the development of China's printing industry and promoting the technological upgrading of the printing industry, the whole Printing Exhibition aims to become a three-dimensional first-class platform for the exchange and promotion of new technologies, new products and new materials in the printing and packaging industry.
The whole printing exhibition expects to make greater contribution to the development of world printing industry.
The eighth China international all India exhibition will be on October 12-16, 2020 in Shanghai new international expo center grand opening, as professional exhibitions of cover printing the whole industry chain, all India exhibition 2020 will not only show the printing each link of the latest products, technology, and at the same time also will focus on industry hotspot, insight into industry trends, providing personalized solutions for printing enterprises.
Wenzhou Ruizhi Packaging Machinery Co., LTD., as the exhibitor of this exhibition, the main products exhibited are full RZJD-G350 automatic high speed paper bag machine, RZFD-330 automatic high speed square bottom paper bag machine and RZFD-330T automatic square bottom handle paper bag machine.
RZFD-330T automatic square bottom handle paper bag machine

RZJD-G350 automatic high speed paper bag machine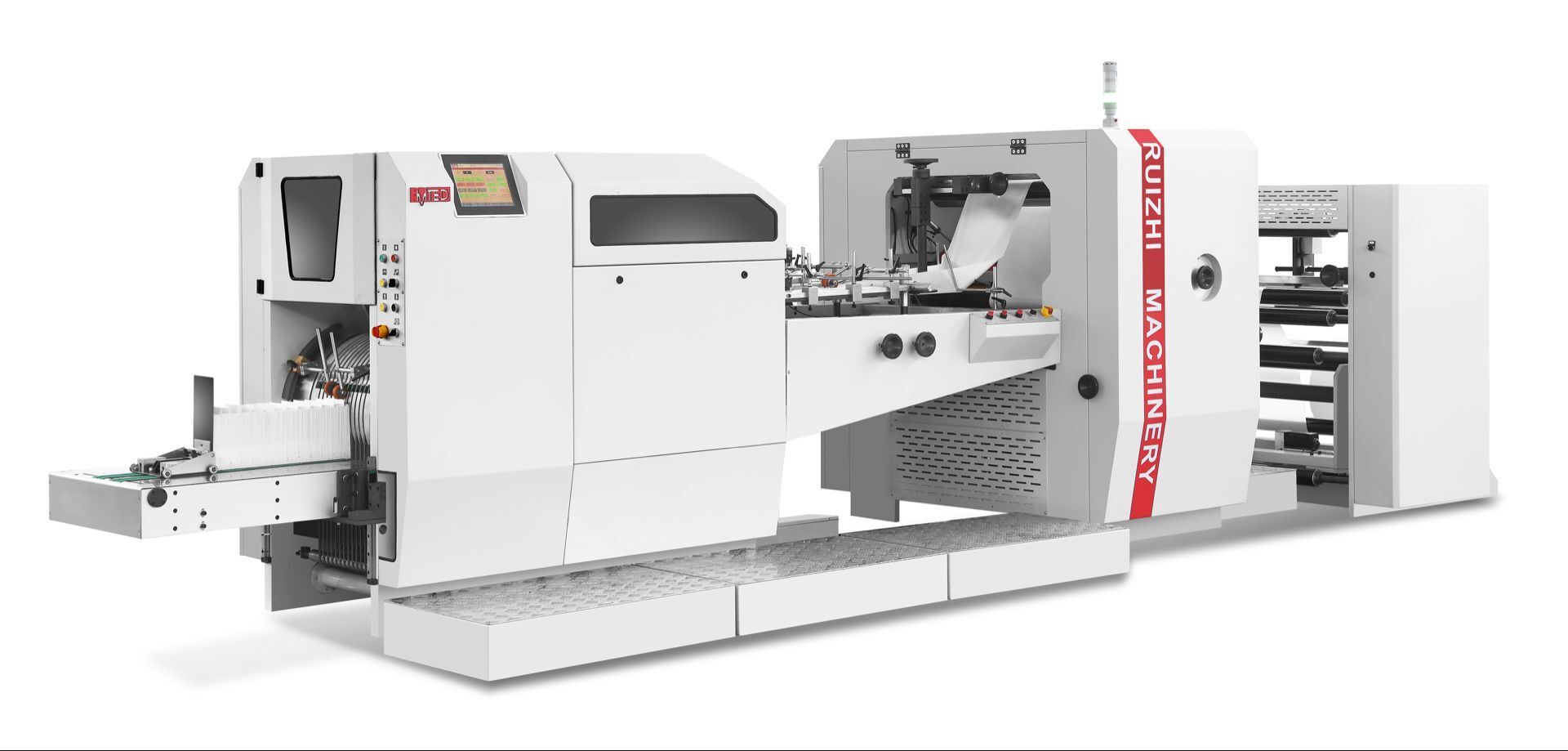 RZFD-330 automatic high - speed square - bottom paper bag machine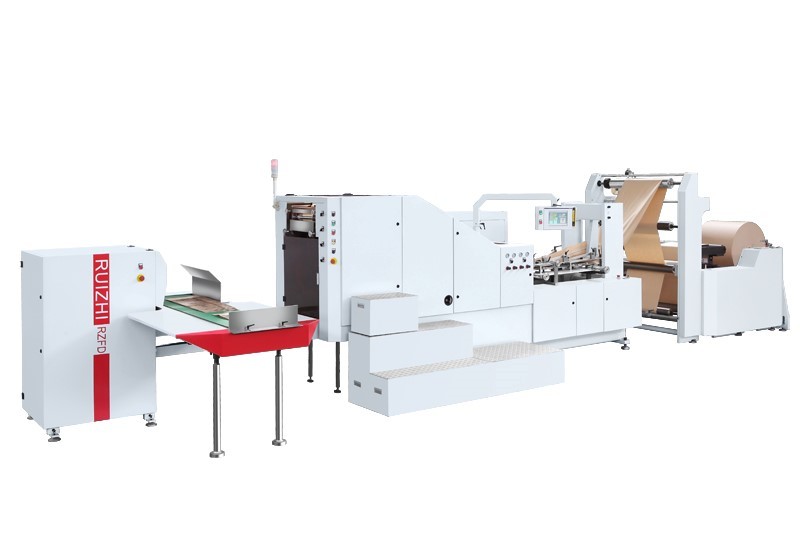 The paper bag machine of our company is mainly applicable to the primary color paper of the web, such as kraft paper, glossy paper, food film paper, medical paper and other paper rolls. The paper bag process is composed of perforation, gluing, color calibrating length, raw material into a cylinder, fixed length, bottom folding and bottom gluing.
The bottom of the bag is formed and the finished bag is finished in one time.
This machine is more convenient to operate, more efficient, more stable, is the production of various paper bags, window bread bags, leisure food bags, bread bags, dried fruit bags and other environment-friendly paper bag machine equipment.
The main features
1. French SCHNEIDER touch screen man-machine interface, clear operation function, easy to control.
2. The original LENZE motion controller (PC) from Germany is adopted to ensure high-speed and stable operation through integration with optical fiber.
3. The original LENZE servo motor of Germany is adopted together with the original SICK photoelectric eye of Germany to accurately track the printing bag size.
4. Raw material loading and unloading adopts hydraulic automatic lifting structure, and unwinding adopts automatic constant tension control.
5. Raw material deviation correction adopts Italy SELECTRA to reduce the adjustment time of paper roll alignment.

The following is the exhibition information of our company. Welcome to our company:
Time: October 12-16, 2020
Exhibition number: E7-A111
Address: Shanghai New International Expo Center
---